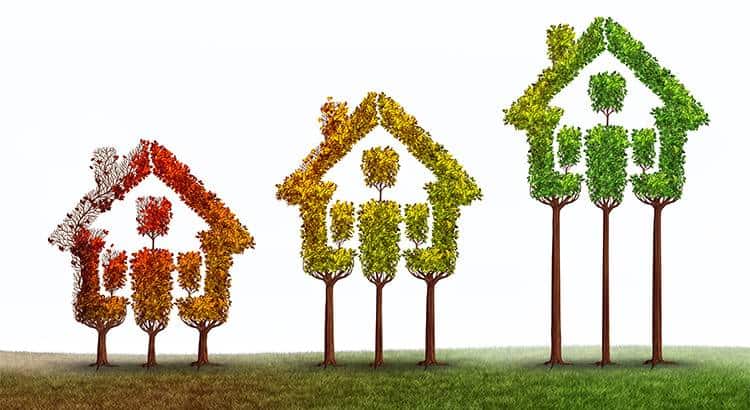 19 Sep

Home Prices: The Difference 5 Years Makes
Home Prices: The Difference 5 Years Makes
CoreLogic recently released their Home Price Index Report. One of the key indicators used in the report to determine the health of the housing market was home price appreciation. CoreLogic focused on appreciation from July 2013 to July 2018 to show how prices over the last five years have fared.
The graph below was created to show the 5-year change in price from July 2013 to July 2018 by price range.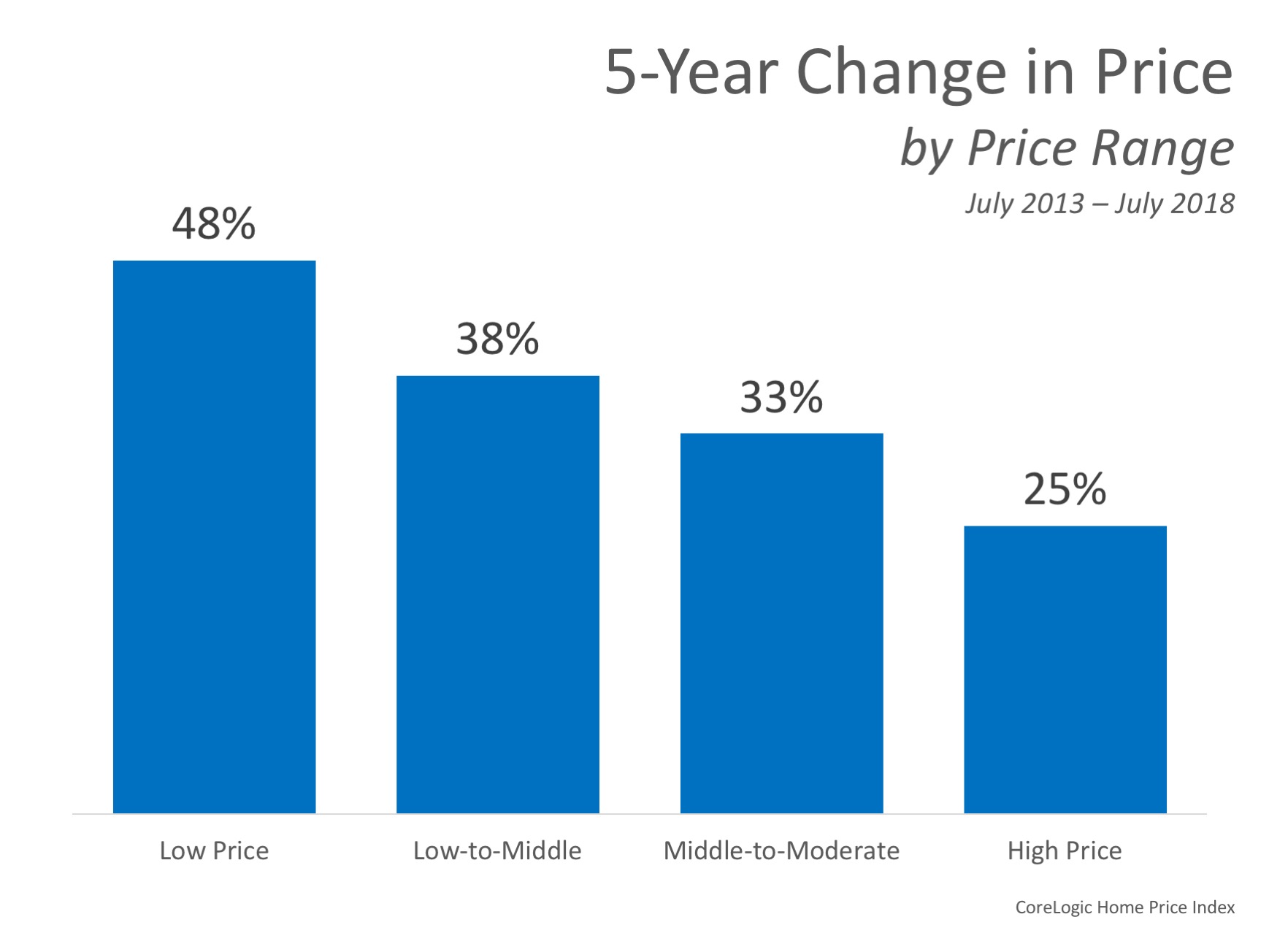 As you can see in the graph, the highest price appreciation occurred in the lowest price range with 48% growth, while the highest priced homes appreciated by 25%. This has been greatly fueled by the lack of inventory of homes available at the lower price ranges and high demand from first-time buyers looking to enter the market.
Where were prices expected to go?
Every quarter, Pulsenomics surveys a nationwide panel of over 100 economists, real estate experts, and investment and market strategists and asks them to project how residential home prices will appreciate over the next five years for their Home Price Expectation Survey (HPES).
According to the Q3 2014 survey results, national homes prices were projected to increase cumulatively by 19.5% by December 2018. The bulls of the group predicted home prices to rise by 27.8%, while the more cautious bears predicted an appreciation of 11.2%.
Where are prices headed in the next 5 years?
Data from the most recent HPES shows that home prices are expected to increase by 20.0% over the next 5 years. The bulls of the group predict home prices to rise by 31.2%, while the more cautious bears predict an appreciation of 9.3%.
Bottom Line
Every day, thousands of homeowners regain positive equity in their homes. Some homeowners are now experiencing values even greater than those before the Great Recession. If you're wondering if you have enough equity to sell your house and move on to your dream home, let's get together to discuss conditions in our neighborhood!
SOURCE: Simplifying the Market
---
ABOUT ERIC MATZ:
As a professional Realtor, Eric's commitment is to always represent the client's best interest.  He uses his extensive experience to secure top dollar for sellers and personally guide them through the transaction. Eric works with a wonderful team who devote themselves to serving the needs of their clients before, during and after the move.
Eric's business is built on repeat clients and their referrals. He wants to earn their respect, so he makes a constant effort to improve the level of service he provides. Eric is a relationship builder and prides himself on being the trusted advisor for so many homeowners.
Whether you are buying or selling your next (or first) home, Eric is ready to help. Eric knows Poway well, as it's the place where he grew up and raised his own family. Having been a lifelong San Diego resident, he is knowledgeable about most areas of the county and can assist with a home sale from the coast to the inland areas. When you're ready to buy or sell, give Eric a call, he looks forward to earning your business and be your Realtor for life!
You can contact Eric at (619)733-8087 | [email protected]