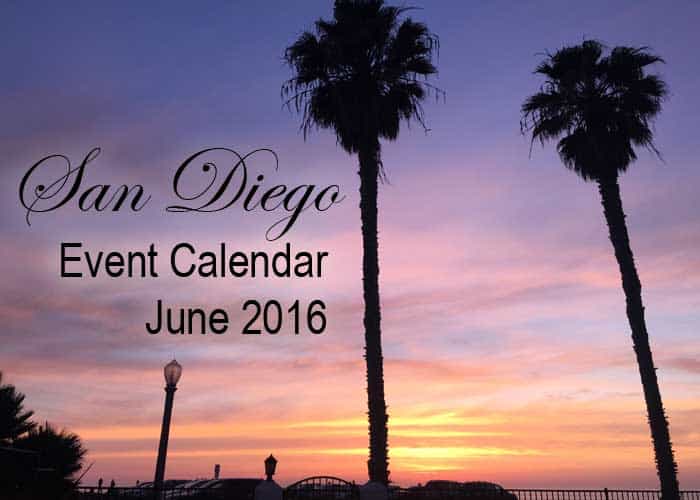 01 Jun

Your San Diego Calendar of Events for June 2016
Rock n' Roll Marathon & Half Marathon
6/3-6/5 6:10 am – 4 pm

Athletes worldwide will participate in one of the nation's premier marathons. Live bands and cheerleading groups entertain athletes along a televised 26.2- or 13.1 mile course. Location: Balboa Park – Sea World. Info: www.runrocknroll.com/san-diego.
FILMOUT San Diego – 6/3-6/5 Various
A film festival to enlighten, educate, and entertain the communities of San Diego County & beyond through the exhibition of LGBT-themed films. Location: Birch North Park Theatre, 2891 University Ave. Ste. 1. Info: www.filmoutsandiego.com.
San Diego County (Del Mar) Fair
6/3-7/4 various times (Closed 6/7 & 6/14, and all Mon. except 7/4)

This year's theme "Mad About the Fair" turns the fairgrounds into a Wonderland. Location: Del Mar Fairgrounds. Info: www.sdfair.com.
Art Around Adams
6/4 12 pm – 8 pm
Each year they strive to infuse new and exciting artists and talents that reflect this year's local trends in art and business. Location: Adam's Ave. btwn. Hamilton & Biona. Info: www.artaroundadams.org.
Walk to Cure Arthritis
6/4 7:30 am – 11:30 am
Walking moves the muscles and lubricates the joints. So, let's move together by participating at this walk- ing event. Location: Liberty Station Info: www.arthritiswalk.org.
World Famous Mud Run
6/4-6/5 Various

World Famous® Mud Run is a challenging 10K run with hills, tire obstacles, river crossings, two 5- foot walls with mud on both sides, tunnel crawl, slippery hill climb, and the final 30-foot mud pit. Location: Camp Pendleton. Info: www.mccscp.com/mudrun.
Taste of La Mesa
6/6 5 pm – 8 pm
Attendees will be able to enjoy delicious samples from 25 local restaurants, caterers and other food providers. Premium beer and wine will also be provided. Location 4975 Memorial Dr. Info: www.lamesachamber.com.
Greek Festival
6/10-6/12 F:5-10pm, S:11am–10pm, S: 11am–8pm
A Greek festival offers a friendly atmosphere of lively music and dancing, wine & spirits, Greek foods, and tempting pastries. Location: St. Spyridon Church (3655 Park Blvd.) Info: www.sdgreekfestival.com.
LaDanian Tomlinson 5K
6/11 7am–12pm
Join celebrities and others on a 5K run/walk and a 1- mile kid's run. Proceeds to the LaDanian Tomlinson Touching Lives Foundation. Location: NTC Park at Liberty Station. Info: www.lt5k.com.
San Diego Festival of the Arts
6/11-6/12 10 am – 6 pm

Nearly 200 award-winning, national and local artists will display oil paintings, watercolor, photography fine jewelry, sculpture, live chalk- art creations, serigraph and more. Location: Waterfront Park, 1600 Pacific Hwy. Info: www.lajollaartfestival.org.
Taste of Vista on Main Street
6/15 Time 5 pm – 8 pm

Attendees will sample appetizers, entrees, and des- serts from over 25 local restaurants. The cuisine in- cludes Mexican, Italian, BBQ, Indian, Chinese, Sushi, Traditional, Irish, Thai, Vietnamese, Greek & Japanese. Location: Main and Hanes. Info: www.vvba.org.
Taste of Little Italy
6/15 5 pm – 9 pm
Discover the palette of dining possibilities as you enjoy samples offered by Little Italy's restaurants. Location: Little Italy. Info: 619-615-1090. www.tasteoflittleitalysd.com.
International Beer Festival
6/17-6/19 various times
More than 400 beers from more than 20 countries, in the format of a public tasting event and private competition. Location: Del Mar Fairgrounds. Info: www.sandiegobeerfestival.com.
Alesmith Mr. Padre 5.5K Walk
6/18 7am–11am

Join us for a 5.5K walk starting and ending at the new AleSmith Brewing Company. A post walk party with food trucks, live music, and great beer! Location: 9990 Alesmith Ct. Info: www.goo.gl/WtMzYj.
Old House Fair
6/18 10am–4pm
Exhibits and local crafts people and businesses that specialize in repairing, restoring, and preserving homes. Also historic home tours. Location: 30th Street (between Cedar St. & Ash St.) Info: (619) 233-6679. www.theoldhousefair.com.
Carlsbad Music Festival Village Walk
6/18 4pm–10pm
Music celebration featuring the next generation of cutting- edge, world-class musicians. Location: Carlsbad Village. Info: www.carlsbadmusicfestival.org.
Ocean Beach Street Fair & Chili Cook-off
6/25 10am–8pm
Enjoy tasty festival nosh, art, beachfront entertainment, shopping and more. Location: Newport Ave., next to the pier in OB. Info: www.oceanbeachsandiego.com.
San Diego Scottish Highland Games & Gathering
6/25-26 9 am – 5 pm

Enjoy the fun and pageantry of the Gathering of the Clans. Competitions, costumes, and entertainment for all. Location: Brengle Terrace Park in Vista. Info: www.sdhighlandgames.org.
San Diego International Triathlon
6/26 6:35 am – 11:45 am
To Benefit Father Joe's Village, this course consists of a 1,000 or 500 meter swim, 30K or 20K cycle, and 10K or 5K run. Location: Spanish Landing Park – Embarcadero Marina Park) Info: www.kozenterprises.com.
Taste of Adams Avenue
6/26 11am–3pm
Taste of Adams Avenue will showcase entrée and dessert samples from 30 prominent local restaurants, eateries and pubs. Location: Adams Avenue in Kensington, Normal Heights and North Park. Info: www.adamsaveonline.com.
San Diego Farmers Markets
For more info and location specifics for San Diego Farmers Markets visit: www.sdfarmbureau.org
Monday:
Escondido – Welk: 3-7 pm
Tuesday:
Coronado: 2:30–6 pm
Escondido: 2:30 – 6 pm
Mira Mesa: 2:30-7 pm
Otay Ranch: 4-7 pm
Pacific Beach: 2-7 pm
UCSD/La Jolla: 10-2 pm
Wednesday:
Carlsbad: 3-7 pm
Encinitas: 4-7 pm
Mission Bay: 10 am – 2 pm
Ocean Beach: 4-7 pm
Santee 3-6 pm
Thursday:
Carmel Valley: 2:30-7 pm
Chula Vista: 3-6 pm
El Cajon : 3-6 pm
Linda Vista: 3-7 pm
North Park: 3-7 pm
Oceanside CFM : 9 am – 1 pm
Oceanside Sunset: 5-9 pm
UC– Doyle Elementary: 3-7 pm
Friday:
Allied Gardens 4-8 pm
Fallbrook: 11am – 3 pm
Imperial Beach: 12-6 pm
Kearny Mesa: 11 am -1:30 pm
La Mesa: 1-5 pm
Rancho Bernardo: 9 am -1 pm
Saturday:
City Heights: 9-1 pm
Del Mar: 1-4 pm
Escondido: 10 am – 2 pm
Golden Hill: 9:30 am – 1:30 pm
Little Italy: 8 am – 2 pm
Pacific Beach: 8 am – noon
Poway: 8 am – 1 pm
Ramona: 9 am – 1 pm
Scripps Ranch: 9 am – 1 pm
Vista: 8 am – 1 pm
Sunday:
Sikes Adobe: 10:30 am – 3:30 pm
Gaslamp District: 9 am –2 pm
Hillcrest: 9 am – 2 pm
La Jolla: 9 am – 1 pm
Leucadia/Encinitas: 10 am – 2 pm
Point Loma: 9:30 am – 2:30 pm
Rancho Santa Fe: 9:30 am – 2 pm
San Marcos: 11 am – 3 pm
Solana Beach: 1 – 5 pm
Tuesday Free Admission Museum Days

First Tuesday
Reuben H. Fleet Science Center
Centro Cultural de la Raza
San Diego Model Railroad
San Diego Natural History
Second Tuesday
Museum of Photographic Arts
San Diego History Center
Veterans' Museum and Memorial Center
Third Tuesday
San Diego Art Institute
Mingei International
San Diego Museum of Art
San Diego Museum of Man
Japanese Friendship Garden
Fourth Tuesday
San Diego Air & Space
San Diego Automotive
San Diego Hall of Champions
Pacific Relations Int'l Cottages
Summer Concert Series:
Balboa Park – Spreckles Organ Pavilion: 6/21-23, 6/28-30. 6:15 pm – 7:15 pm www.balboapark.org
Balboa Park – Spreckles Organ Pavilion: 6/27. 7:30 pm www.sprecklesorgan.com
Bird Park – Morley Field: 6/14, 6/28. 5:30 pm -7:30 pm www.northparksd.org
Carlsbad TGIF– Stagecoach Community Park: Fridays. 6 pm – 8 pm. www.carlsbadca.gov
Chula Vista – Eastlake Pkwy. & Miller Dr.: 6/12, 6/19, 6/26. 5 pm – 7 pm www.shopvillagewalk.com
Coronado Ferry: 1st & C Sat/Sun. 2 pm – 5 pm. www.coronadoferrylandingshops.com
Coronado Summer – Spreckels Park: 6/5, 6/12, 6/19, 6/26. 6 pm. www.coronadoconcert.com
El Cajon – 200 Block of Main St.: 6/3, 6/10, 6/17, 6/24. 6 pm – 8 pm. www.ci.el-cajon.ca.us
La Mesa – Harry Griffen Park Amphitheatre: Sundays 6 pm. www.cityoflamesa.com
Mission Hills – Pioneer Park: 6/17, 6/24. 6 pm – 8 pm. www.ourmissionhills.com
Poway – Lake Poway: 6/26. 5:30 pm – 7 pm. www.poway.org
San Marcos – Woodland Park: 6/25. 7:30 pm. www.ci.san-marcos.ca.us
Santee – Town Center Park: 6/16, 6/23, 6/30. 6:30 pm – 8 pm. www.ci.santee.ca.us
Scripps Ranch – Hoyt Park: 6/12. 6 pm – 7:30 pm. www.symphonyinthepark.org
University of San Diego – Shiley Theatre, Camino Hall: 6/25. 2 pm. www.sandiego.edu/events