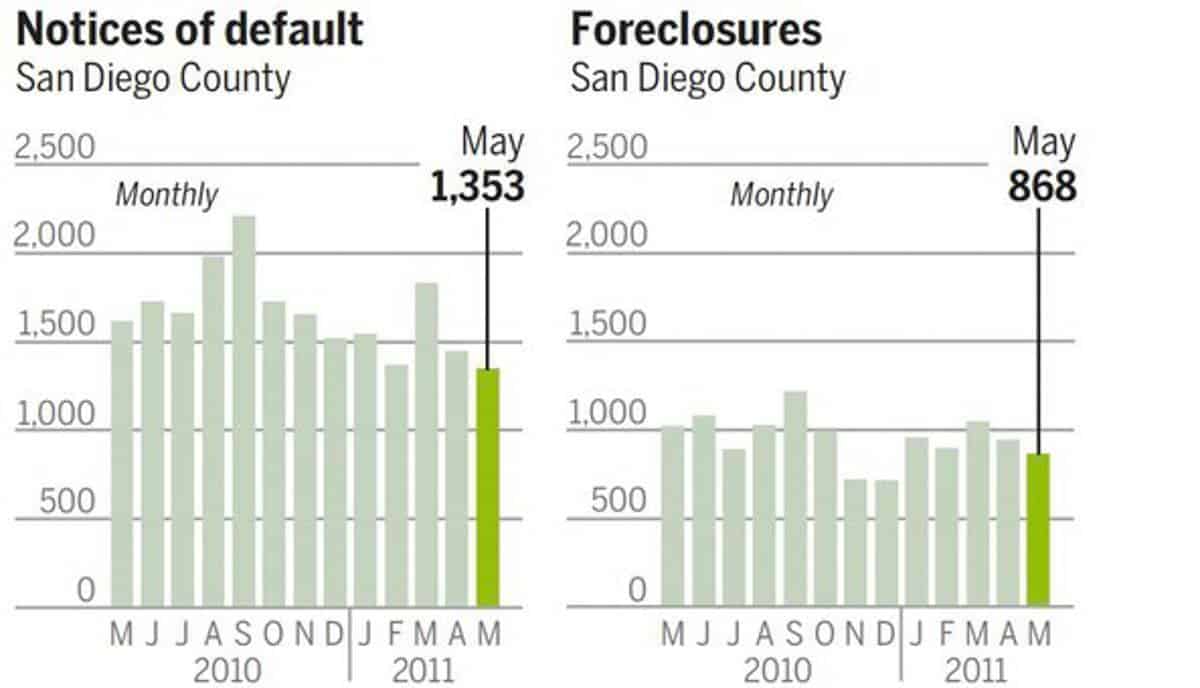 21 Jun

San Diego County's Notices of Default fall in May
San Diego County's Notices of Default fall in May
Presented by Eric Matz, Coldwell Banker Rancho Bernardo. Source: Sign On San Diego
If you find yourself in a situation where you can not make your mortgage payments, don't wait! Don't let the bank foreclose. Call me and let's work together to find a solution, a short sale may be the solution for you. Click here to read my article on the short sale process. We at Poway Real Estate are here to help you make an informative decision based on your individual needs. All consultations are confidential and private. Contact me today.
San Diego County's notices of default, the first step in the foreclosure process, fell to their lowest level in 31 months in May, numbers from DataQuick Information Systems show.
Foreclosures in the region also declined, said Thursday's report from the real-estate tracking company.
San Diego County recorded 1,353 defaults in May, down 16.6Â percent from a year ago and down 6.8 percent from April, DataQuick reported. The number of defaults dropped to its lowest number since October 2008, when 1,112 were posted. It peaked at 3,832 in March 2009.
Foreclosures dropped to 868 in May, 15 percent lower than a year ago and 8.2 percent lower than in April. They peaked at 2,004, in July 2008.
Mark Riedy, executive director of University of San Diego's real estate center, said banks continue to be "judicious" about pushing homes through the foreclosure process because they don't want too many losses on their books. Lenders have been controlling that flow also because too large of an infusion could "further depress prices," Riedy said.
Another possible explanation: A consistent rate of homeowners are choosing to do short sales over going into foreclosure. Some real estate agents argue that short sales are a better choice because they cause a smaller hit to consumer credit, allowing buyers to get back into the market within 2-3 years after a short sale.
In May, 18.5 percent of the resale market in San Diego County were short sales, DataQuick figures show. That percentage has remained in the 17 percent to 21 percent range for the past year.
Local figures align with national and state numbers. Officials with RealtyTrac, another market monitor, said earlier this week foreclosure filings and defaults are trending down from a year ago.
Foreclosures and defaults and are now below their peaks but both numbers remain historically high, DataQuick records show. On a national level, Irvine-based RealtyTrac on Tuesday reported California had the third highest foreclosure rate in the country in May.
RealtyTrac CEO James Saccacio said even though the number of homes in the foreclosure process has fallen over the past six months, the number of unsold bank-owned properties went up in April and May in the U.S.
"That points to continued weak demand from buyers, making it tough for lenders to unload their REO inventory," Saccacio said. "Even at a significantly lower level than a year ago, the new supply of REOs exceeds the amount being sold each month."
Ultimately, it's unclear why the numbers are going down because it's murky what's going on behind the scenes with distressed properties, said Andrew LePage, a DataQuick analyst.
Related:
Foreclosures and defaults continue to fall
Q&A: The ins and outs of short sales
Reach reporter Lily Leung at [email protected] or 619-293-1719. Follow her on Twitter @LilyShumLeung and on Facebook.