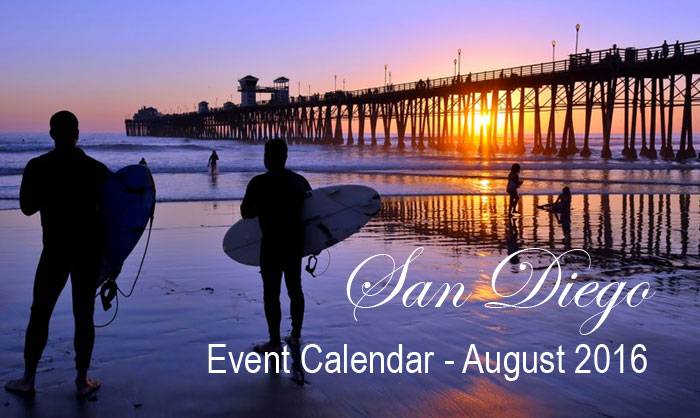 01 Aug

Your San Diego Calendar of Events for August 2016
San Diego Surf Cup
7/30-8/8 Various
Participating soccer teams from all over the world (age 9-18) come to compete for the coveted Surf Cup Trophy. Location: San Diego Polo Club Field (14555 El Camino Real). Info: www.surfcup.com.
San Diego Burger Battle
8/6 9 am – 3 pm
The Bull Burger Battle is a live cooking competition and official qualifying event for the World Food Championships in Las Vegas. Location: Carddine Home Resort. Info: www.bullburgerbattle.com.
Clairemont Family Day
8/6 8 am – 4 pm
A festival in Clairemont offers residents a full day of fun. There is food, merchandise, musical entertainment, games, pony rides, carnival rides, and a car show. Location: South Clairemont Park at 3605 Clairemont Dr. Info: www.clairemontfamilyday.com
Chula Vista Lemon Festival
8/7 10 am – 5 pm
Chula Vista was once self-proclaimed "Lemon Capital of the World" in the 1920's. Location: Third Ave., between E Street and Roosevelt Street. Info: www.thirdavenuevillage.com.
Cardiff Dog Days of Summer
8/13 9:30am–6pm
A Blessing of the Dogs with the Tibetan Buddhist Meditation Center, 10 dog contests, tasty food, a kid's zone, pet adoptions from local shelters & rescue organizations and more. Location: Aberdeen Dr. between Newcastle & SanElijoAve. Info:www.cardiffdogdaysofsummer.com.
Art Walk NTC @ Liberty Station
8/13-14 Sat 10 am—6pm, Sun 10 am-5 pm
Artists love the flat grassy park with easy load-in and strike access, and the layout provides every artist with a corner space. Location: 2645 Historic Decatur Info: www.artwalksandiego.org/ntc
Santee Movies by the Lake
8/12 – Ghostbusters 8 pm (Kids activities start at 6 pm)
Featuring family friendly movies this Summer in beautiful Santee Lakes Recreation Reserve. Location: 9310 Fanita Pky. Info: www.santeelakes.com.
Mira Mesa Festival of Beers
8/13 1 pm – 5 pm
Sample craft beers from local breweries where patrons (age 21+) can sample up to 18 different beers of their choice. Location: Mira Mesa Community Park at 8575 New Salem Street Info: www.miramesabeerfest.com.
Valley Center Food Truck Fest
8/13 4 pm – 9 pm
Sixteen gourmet food trucks return to Bates
Nut Farm! In addition to unique and delicious food, there will be live music, kids activities, and family fun. Location: Bates Nut Farm Info: www.batesnutfarm.biz
Carlsbad Art in the Village
8/14 9 am – 5 pm
You can browse from among 150 of the finest arts and crafts vendors in the most beautiful of settings in Carls- bad Village, just two blocks from Carlsbad State Beach. Location: along State St and Grand Ave. Info: www.kennedyfaires.com/carlsbad
Hillcrest CityFest
8/14 Noon – 11 pm
Over 250 arts and crafts vendors, live music, dancing, face-painting, performances, lantern-making and more. Location: Fifth Ave between Brookes & University Ave. Info: www.fabuloushillcrest.com.
Encinitas Taste of MainStreet
8/16 5:30 – 8:30 pm
Treat your taste buds to food samples from about 35 restaurants, and quench your thirst with Temecula Valley wine and local craft beer served at 20 Stops hosted by shops and salons. Location: Downtown Encinitas Info: Encinitas101.com/events/annual-taste-of-MainStreet 
Color Me Rad 5 K
8/20 10 am
Each section of the run adds a new explosion of color to your clean, painter's palate until you cross the finish line into a final blitzkrieg of color. Location: Qualcom Stadium. Info: www.colormerad.com.
World Bodysurfing Championships
8/20-8/21 6:30 am – 5 pm
Approximately 350-400 bodysurfers from around
the world compete in their respective age divisions for trophies and prizes. Location Adjacent to Oceanside Pier Info: www.worldbodysurfing.org.
Americas Finest City 5K Run/Walk & 1/2 Marathon
8/21 7am
San Diego is proud to claim this world famous half mara-thon as one of the largest half marathons in the United States. Can't run 13.5 miles? Try a 5 K instead. Location: Balboa Park (Pan American Plaza at Hall of Champions Museum) Info: www.afchalf.com.
Taste of the Cove
8/25 5pm-10pm
Featuring food from San Diego's top-rated restaurants, a Fashion Show and two local honorees as well as silent and live auctions. Location: Ellen Browning Scripps Pk. – 1180 Coast Blvd. Info: www.tasteatthecove.com.
Ramona Country Fair
8/25 – 8/28 T/F:5-11 pm, S/S: 11 am-11 pm
Featuring rides, carnival games, lots
of animals, a battle of the bands,
"Ramona Idol" singing contest,
watermelon eating contest and much more. Location: Ramona Fairgrounds Info: www.ramonachamber.com.
Doggie Street Festival
8/27 9 am – 4 pm
The event is dedicated to increasing dog adoption through its yearly event. Location: NTC Park Liberty Station. Info: doggiestreetfestival.org
Bike the Bay
8/28 7 am – 1 pm
It's a 25-mile bike ride that begins at the Embarcadero Marina Park S. and travels over the magnificent San Diego Coronado Bay Bridge and back to the Marina by way of the Bayshore Bikeway. Location: Embarcadero Marina Park. Info: www.bikethebay.net.
End of Summer Fire Run
8/28 8 am – 10 am
A summertime 4K run/walk will take you from La Jolla to Pacific Beach. Location: Prospect St. (near Girard St) Info: www.kathyloperevents.com.
LeucadiaART Walk
8/28 10 am – 5 pm
Local juried artists displaying original art in specified areas along Coast Highway 101 in Leucadia. Location: W. Side of Hwy 101 Info: www.leucadia101.com/events
San Diego Farmers Markets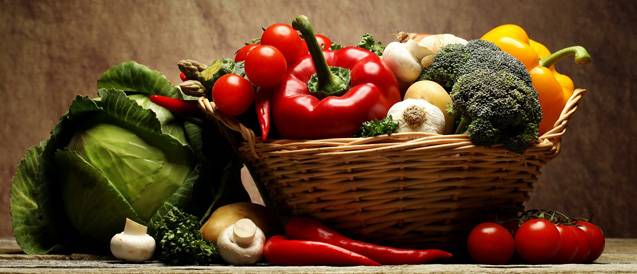 For more info and location specifics for San Diego Farmers Markets visit: www.sdfarmbureau.org
Monday:
Escondido – Welk: 3-7 pm
Tuesday:
Coronado: 2:30–6 pm
Escondido: 2:30 – 6 pm
Mira Mesa: 2:30-7 pm
Otay Ranch: 4-7 pm
Pacific Beach: 2-7 pm
UCSD/La Jolla: 10-2 pm
Wednesday:
Carlsbad: 3-7 pm
Encinitas: 4-7 pm
Mission Bay: 10 am – 2 pm
Ocean Beach: 4-7 pm
Santee 3-6 pm
Thursday:
Carmel Valley: 2:30-7 pm
Chula Vista: 3-6 pm
El Cajon : 3-6 pm
Linda Vista: 3-7 pm
North Park: 3-7 pm
Oceanside CFM : 9 am – 1 pm
Oceanside Sunset: 5-9 pm
UC– Doyle Elementary: 3-7 pm
Friday:
Allied Gardens 4-8 pm
Fallbrook: 11am – 3 pm
Imperial Beach: 12-6 pm
Kearny Mesa: 11 am -1:30 pm
La Mesa: 1-5 pm
Rancho Bernardo: 9 am -1 pm
Saturday:
City Heights: 9-1 pm
Del Mar: 1-4 pm
Escondido: 10 am – 2 pm
Golden Hill: 9:30 am – 1:30 pm
Little Italy: 8 am – 2 pm
Pacific Beach: 8 am – noon
Poway: 8 am – 1 pm
Ramona: 9 am – 1 pm
Scripps Ranch: 9 am – 1 pm
Vista: 8 am – 1 pm
Sunday:
Sikes Adobe: 10:30 am – 3:30 pm
Gaslamp District: 9 am –2 pm
Hillcrest: 9 am – 2 pm
La Jolla: 9 am – 1 pm
Leucadia/Encinitas: 10 am – 2 pm
Point Loma: 9:30 am – 2:30 pm
Rancho Santa Fe: 9:30 am – 2 pm
San Marcos: 11 am – 3 pm
Solana Beach: 1 – 5 pm

Tuesday Free Admission Museum Days

First Tuesday
Reuben H. Fleet Science Center
Centro Cultural de la Raza
San Diego Model Railroad
San Diego Natural History
Second Tuesday
Museum of Photographic Arts
San Diego History Center
Veterans' Museum and Memorial Center
Third Tuesday
San Diego Art Institute
Mingei International
San Diego Museum of Art
San Diego Museum of Man
Japanese Friendship Garden
Fourth Tuesday
San Diego Air & Space
San Diego Automotive
San Diego Hall of Champions
Pacific Relations Int'l Cottages

Summer Concert Series: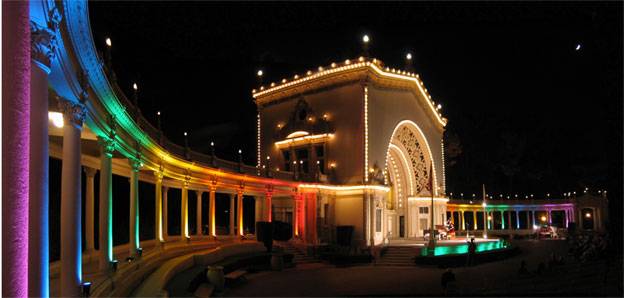 Balboa Park – Spreckles Organ Pavillion – Sundays at 2 pm and Mon. at 7:30 pm.
www.balboapark.org
Carlsbad TGIF–Stagecoach, Alga Norte & Pointsettia Parks – Fridays at 6 pm
www.carlsbadca.gov
Coronado Ferry Landing: Sat & Sun 2 – 5 pm
www.coronadoferrylandingshops.com
Coronado Summer – Spreckels Park – Sundays at 6 pm.
www.coronadoconcert.com
Del Mar – Powerhouse Park – Tuesdays at 7 pm
www.delmarfoundation.org
El Cajon – Prescott Promenade – Fridays 6 – 8 pm
www.ci.el-cajon.ca.us
Encinitas – Moonlight Beach – 8/7 & 8/21 3 – 5 pm
www.cityofencinitas.org
La Jolla – Ellen Browning Scripps Pk. – Sundays at 2 pm
www.ljconcertsbythesea.org
Lemon Grove – Berry St Pk. – Thursdays 6:30 – 8 pm
www.lemongrove.ca.gov
North Park – Bird Park – 8/8 at 5:30 pm.
www.northparksd.org
Oceanside – Melba Bishop Rec Area – 8/14 2 – 5 pm
www.ci.oceanside.ca.us
Pacific Beach – Kate Sessions Park – 8/2, 8/9 at 4 pm
www.pbconcerts.org
Point Loma – Point Loma Park – 8/5 5:30 pm.
www.plconcerts.org
Poway – Lake Poway – 8/7 & 8/14 5:30 – 7 pm
www.poway.org
San Marcos – Woodland Park – 8/22 at 7:30 pm.
www.ci.san-marcos.ca.us
Santee – Town Center Com Pk – Thursdays 6:30 – 8 pm
www.ci.santee.ca.us
Scripps Ranch – Hoyt Pk – 8/14 6 pm
www.symphonyinthepark.org
Solana Beach – Fletcher Cove Park – Thursdays at 6 pm
www.ci.solana-beach.ca.us
University City – Standley Park – Sundays 5 – 7 pm
www.sandiego.gov
University Heights – Trolley Barn Park, 8/5 6 – 8 pm
www.uhcdc.org