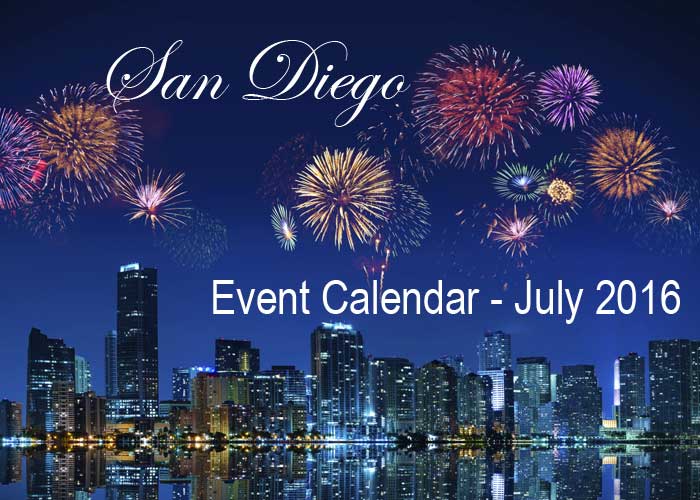 28 Jun

Your San Diego Calendar of Events for July 2016
Fourth of July Events:
National City's 4th of July Carnival
6/30–7/4 Th. & Fr. 5 -11, St. & Sn. 1-11, Mo. 12-12
Location: Kimball Park – D Ave & E 12th St – Info: www.ci.national-city.ca.us
The Oceanside Freedom Parade
7/2 10 am – 12 pm
Location: N. on Coast Highway 101 Info: www.oceansideparade.com
Independence Day at the Border – San Ysidro
7/2 Time:3pm–9pm
Location: Larsen Field – 4061 Camino de la Plaza. Info: www.sanysidro.biz
Oceanside Fireworks Show
7/3 5pm-9:30pm
Location: El Corazon Site at Rancho Del Oro Road. Info: www.ci.oceanside.ca.us/cals

Old Town 4th of July
7/4 11 am – 4 pm
Location: Old Town State Historic Park. Info: www.parks.ca.gov
4th of July Celebration in Coronado
4th 7/4 10am-9pm
Location: Parade on Orange Ave. Info: www.coronadotimes.com
San Diego County Fair 4th of July Celebration
7/4 9:30am-11pm
Location: Del Mar Fairgrounds Info: www.sdfair.com

Rancho Bernardo's The Spirit of the Fourth
7/4 9:30am-9:30pm
Location: Webb Park, off Bernardo Center Dr. Info: www.spiritofthefourth.org
Rancho Santa Fe's 4th of July Parade & Picnic
7/4 1pm-3pm
Location: 16948 Avenida De Acacias, Rancho Santa Fe. Info: www.rsfassociation.org
Independence Day Celebration – Vista
7/4 5pm-9pm
Location: Moonlight Amphitheatre Info: www.cityofvista.com

El Cajon 4th of July Picnic and Fireworks
7/4 1 pm – 9:30 pm
Location: Kennedy Park – 1675 East Madison Ave. Info: www.facebook.com/events/998913683514431
Julian 4th of July Parade
7/4 10am- 4:00pm
Location: Along Main St. Info: www.julianparade.com

Santee Salutes
7/4 2:30 pm – 10 pm
Location: Town Center Park, 550 Park Center Dr. Info: www.ci.santee.ca.us

Fireworks Around the County
Annual Big Bay Boom — Downtown San Diego at 9 pm is large fireworks display. Pick a favorite spot near Seaport Village, Coronado Ferry Landing, Spanish Landing, Embarcadero Marina Parks North and South, Cesar Chavez Park, Coronado Tidelands Park, Shelter Island or Harbor Island. www.bigbayboom.com Carlsbad/Legoland -Legoland. 8:30 pm
Camp Pendleton – Del Mar Beach. 9:00 pm
Coronado – Over Glorietta Bay 9 pm.
Del Mar – Fairgrounds. 9 pm
El Cajon – Kennedy Park 9 pm
Escondido – Grape Day Park. 9 pm
Fallbrook – Grand Tradition Way – 9 pm
La Jolla- La Jolla Cove – Ellen Browning Scripps Park. 9 pm
Mission Bay/Seaworld- 9:30 pm
National City – Kimball Park. 9 pm
Ocean Beach – Ocean Beach Pier. 9 pm
Poway – Poway High School. 9 pm
Ramona – Olive Pierce Middle School. 9 pm
Rancho Bernardo – Bernardo Heights Middle School. 9 pm
San Ysidro – Larsen Field. 9 pm
San Marcos – Bradley Park. 9 pm
Santee – Town Center Community Ball fields. 9:30 pm.
Scripps Ranch/Mira Mesa – Mira Mesa HS. 9 pm
Valley Center – Community Hall 9 pm
Vista – Moonlight Amphitheatre / Brengle Terrace Park. 9 pm
Other July Events:
Carlsbad Triathlon
7/10 7:30am
The course begins at Tamarack Surf Beach, and follows the coastline of Carlsbad, past scenic beaches, lagoons and a wildlife preserve. Info: www.carlsbadca.gov
Christmas in July Fair
7/9-10 9 am – 5 pm
An annual shopping extravaganza, Christmas in July draws an estimated 20,000 people each year. Location: Mission San Luis Rey Parish, Oceanside. Info: www.christmasinjulyartisans.com
World Championship Over-The-Line
7/9-7/10 9 am – 8 pm 7/16-7/17 9 am – 8 pm
It's a popular event where crowds of people in beach wear gather to watch the games with music and beer. Location: East Mission Bay Park (Fiesta Island) Info: www.ombac.org.
Opening Day at Del Mar Race Track
7/15 11:30 am
More than 40,000+ race fans are expected to attend what's defined as one of the most fabulous, fashionable and fun festivities in the west. Location: Del Mar Race Track Info: www.dmtc.com
San Diego Pride Parade & Festival
7/16-7/17 11 am, – 10 pm
Multiple stages of entertainment, more than 80 musicians, bands, comedy and dance performers, 300 participating vendor booths, an art exhibit, cultural presentations, and great food! Location: University Ave./Centre St. – Upas St./6th Ave. Info: www.sdpride.org
Unleashed – Surf Dog Competition
7/30 9 am – 3 pm
The most fearless dogs will jump on their boards, paddle out and hang 20! – Location: Imperial Beach Info: www.surfdogevents.com
Solana Beach Triathlon & Duathalon
7/31 7am(Checkin starts at 5:45am)
Over 2,000 athletes will compete this year. Both races start and finish at Fletcher Cove. Info:www.kozevents.com
San Diego Farmers Markets
For more info and location specifics for San Diego Farmers Markets visit: www.sdfarmbureau.org
Monday:
Escondido – Welk: 3-7 pm
Tuesday:
Coronado: 2:30–6 pm
Escondido: 2:30 – 6 pm
Mira Mesa: 2:30-7 pm
Otay Ranch: 4-7 pm
Pacific Beach: 2-7 pm
UCSD/La Jolla: 10-2 pm
Wednesday:
Carlsbad: 3-7 pm
Encinitas: 4-7 pm
Mission Bay: 10 am – 2 pm
Ocean Beach: 4-7 pm
Santee 3-6 pm
Thursday:
Carmel Valley: 2:30-7 pm
Chula Vista: 3-6 pm
El Cajon : 3-6 pm
Linda Vista: 3-7 pm
North Park: 3-7 pm
Oceanside CFM : 9 am – 1 pm
Oceanside Sunset: 5-9 pm
UC– Doyle Elementary: 3-7 pm
Friday:
Allied Gardens 4-8 pm
Fallbrook: 11am – 3 pm
Imperial Beach: 12-6 pm
Kearny Mesa: 11 am -1:30 pm
La Mesa: 1-5 pm
Rancho Bernardo: 9 am -1 pm
Saturday:
City Heights: 9-1 pm
Del Mar: 1-4 pm
Escondido: 10 am – 2 pm
Golden Hill: 9:30 am – 1:30 pm
Little Italy: 8 am – 2 pm
Pacific Beach: 8 am – noon
Poway: 8 am – 1 pm
Ramona: 9 am – 1 pm
Scripps Ranch: 9 am – 1 pm
Vista: 8 am – 1 pm
Sunday:
Sikes Adobe: 10:30 am – 3:30 pm
Gaslamp District: 9 am –2 pm
Hillcrest: 9 am – 2 pm
La Jolla: 9 am – 1 pm
Leucadia/Encinitas: 10 am – 2 pm
Point Loma: 9:30 am – 2:30 pm
Rancho Santa Fe: 9:30 am – 2 pm
San Marcos: 11 am – 3 pm
Solana Beach: 1 – 5 pm

Tuesday Free Admission Museum Days

First Tuesday
Reuben H. Fleet Science Center
Centro Cultural de la Raza
San Diego Model Railroad
San Diego Natural History
Second Tuesday
Museum of Photographic Arts
San Diego History Center
Veterans' Museum and Memorial Center
Third Tuesday
San Diego Art Institute
Mingei International
San Diego Museum of Art
San Diego Museum of Man
Japanese Friendship Garden
Fourth Tuesday
San Diego Air & Space
San Diego Automotive
San Diego Hall of Champions
Pacific Relations Int'l Cottages

Summer Concert Series:
Balboa Park – Spreckles Organ Pavillion – Sun. at 2 pm and Mon. at 7:30 pm. www.balboapark.org
Balboa Park – Spreckles Organ Pavilion: Mon. 7:30 pm http://sprecklesorgan.org
Carlsbad TGIF – Stagecoach, Alga Norte & Pointsettia Parks – Fridays at 6 pm www.carlsbadca.gov
Coronado Ferry – 1st & C – Sat & Sun at 2 pm www.coronadoferrylandingshops.com
Coroando Summer – Spreckels Park. – Sun. at 6 pm. www.coronadoconcert.com
Del Mar – Powerhouse Park – Tue. at 7 pm www.delmarfoundation.org
El Cajon – 200 Block of Main St.: Fri. 6 – 8 pm. www.ci.el-cajon.ca.us
La Jolla – Ellen Browning Scripps Pk. – Sun. at 2 pm www.ljconcertsbythesea.org
La Mesa – Harry Griffin Park – Sun. at 6 pm www.cityoflamesa.com
Mission Hills – Pioneer Park: 7/4, 7/10, 7/17, 7/24, 7/31. 6 – 8 pm. www.ourmissionhills.com
North Park – Bird Park – 7/11, 7/25 at 5:30 pm. www.northparksd.org
Oceanside – Rancho Del Oro – 7/15 at 5 pm. www.visitoceanside.org
Point Loma – Point Loma Park – Fri. at 5:30 pm. www.plconcerts.org
Poway – Lake Poway: Sun. 5:30 – 7 pm. www.poway.org
San Marcos – Woodland Park, 6/23 7:30 pm. www.san-marcos.net
Santee – Town Center Park: Thurs. 6:30 – 8 pm. www.ci.santee.ca.us
Scripps Ranch – Hoyt Park: 6/17. 6 – 7:30 pm. www.symphonyinthepark.org
Solana Beach – Fletcher Cove Park – Thurs. at 6 pm www.ci.solana-beach.ca.us
University of San Diego – Chamber Music Festivals – 7/2, 7/5, 7/7, 7/9 www.sandiego.edu/cas/music